Bakewell Slice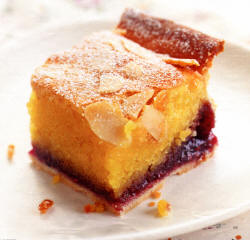 This traditional recipe is definitely a favourite with my lot. It keeps really well, too - at least two days, three if you can resist!
MAKES 12 SLICES
1 x 375g pack shortcrust pastry
8 tbsp raspberry jam
170g unsalted butter softened
200g caster sugar
4 large beaten
2 tbsp lemon juice
I tbsp almond extract
250g ground almonds
50g flaked almonds
icing sugar for dusting
Roll out the pastry until it is about 3mm thick. Line a 22cm tart tin and trim the edges with a knife. Chill in the fridge for 30 minutes.
Preheat the oven to 190C/375F/gas 5. Prick the base of the pastry, line lightly with foil, then add some baking beans and bake blind for about 15 minutes. Remove the foil and baking beans and place the pastry back in the oven to colour lightly for 5 minutes. Remove and allow to cool.
Spread the jam over the pastry base. To make the filling, beat together the butter and sugar until pale and fluffy. Slowly add the eggs and the lemon juice. Add the almond extract and fold in the ground almonds.
Spoon the mixture over the jam base and spread evenly. Sprinkle over the flaked almonds, place on a baking sheet and bake for 30-35 minutes until the filling is golden on top and feels firm in the middle. If the pastry starts to get too brown, cover with foil. Remove and allow to cool. Dust lightly with icing sugar. When totally cool, cut into slices or rectangles.
16/09/2007