Donald's Leberkäs (Bavarian meat loaf)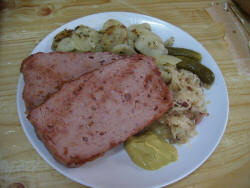 Recipe:
1 kg. finely minced veal
1kg .finely minced beef
200gr finely. minced liver
250 gr. finely minced fat
150 gr. breadcrumbs
2 eggs
Marjoram / Parsley / Salt / Pepper
1/8 litre Milk
2 level teaspoons Baking Powder
Mix all ingredients well in a rectangular baking dish and bake for 60 min. in preheated oven, temp 200.C ( Will rise a lot ).
Serve in one inch slices straight from oven with Coleman's mustard and wheaten bread or lukewarm potato salad and cool beer. 300grams is an acceptable portion.
Guten Appetit !
Donald
28/10/2007