Luxury Bread and Butter Pudding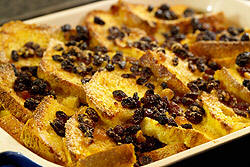 A LUXURIOUS version of Britain's best loved traditional pudding, with a tasty zesty twist that will have you coming back for seconds!
You'll need:
50g (2oz) raisins
zest and juice of 1 orange
6 medium slices of white bread, crusts removed
40g (1½ oz.) softened butter 300ml (½ pt.) milk
300ml / ½ pt. double cream
1 large egg
3 large egg yolks
½ tsp. vanilla essence
6 tbsp. caster sugar
METHOD
Mix the raisins, orange zest and juice together and leave to soak for 10 minutes. Preheat the oven to 170C (gas mark 3).
Spread the bread with the butter and cut each slice in half diagonally. Beat the milk, cream, eggs, vanilla and four tbsp. caster sugar together.
Lay four slices of bread over the base of a 900ml (2 pint) shallow ovenproof dish. Arrange the remaining slices of bread on top, overlapping slightly.
Scatter over the raisins, zest and juice mix. Add the cream mixture and leave to soak for 15 minutes.
Scatter over the remaining caster sugar.
Place the dish in a large roasting tin and pour boiling water from the kettle to come half-way up the outside of the dish. Bake for 35-40 minutes or until the custard has set in the middle and top is golden brown. Serve hot or warm.
Serves 6-8.
01/09/2007