Cheese and Chive Scones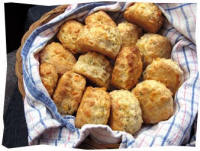 Ingredients
250g/9ozs S. R. flour
1tsp powdered mustard
1/2 tsp cayenne pepper
1/2 tsp salt
100g/ 3½ ozs low fat soft cheese with chives
2tblsps chives
100g/5 fl ozs + 2 tblsps skimmed milk
60g/2ozs reduced fat cheddar cheese (grated)
low fat soft cheese to serve
Oven 200°C/400°F 15 mins
Method
Sift flour, mustard, cayenne & salt into bowl. Add soft cheese. Stir in chives make well in centre and stir in 5 fl ozs milk. Turn out dough onto onto floured surface and knead lightly.
Roll out 3/4" and use 2" cutter. place on baking sheet and bake 15 mins.
Serve with low fat cheese and chives.
Before baking brush scones with milk and top with grated cheese.
01/09/2007