Ann's Chicken Fricassee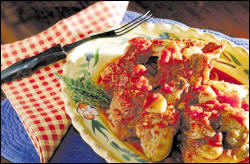 Ingredients:
Cooked chicken pieces (I take these from a roast chicken) Just add as much as you will eat
1 onion
1 carrot
4 oz mushrooms
Salt and Pepper
300 grams basmati rice
1 tin Campbell's Chicken or Mushroom Soup
Method
Heat some oil in pan
Add the chopped onion and chopped carrot. Fry for 5 mins until softish
Add chicken pieces, mushrooms, salt and pepper, the basmati rice.
Add the tin of Campbell's Soup and milk to the empty tin and pour this into the mixture as well
Transfer to a casserole dish and cook at a low/medium heat until the rice is cooked and the dish has thickened.