Ann's Courgette Soup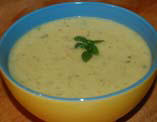 Ingredients
4 or 5 courgettes. Cut into big chunks after rinsing.
Chicken Stock
Salt and pepper to taste
Cheese triangles
Method
Fry the chunks in a good bit of butter for a minute or two, just until they're coated. Add chicken stock to cover. Salt and pepper Simmer for about 15 mins. Then add 3 or 4 cheese triangles and let them melt. Put through blender. You can add more or less stock, as required. But, this is a really addictive soup and so tasty and easy to make.
For 1 kg courgettes, use 2 litres of chicken stock. 1 or 2 GOOD chicken stock cubes, like Just Bouillon. It's so easy to make and is delicious. Good luck.
Cucumber in Yoghurt Sauce
1 cucumber, sliced
Yoghurt with vinegar, olive oil, salt and pepper.
40 min to 1 hour before making the salad, put cucumber in a draining bowl with salt.
Rinse cucumber and dry the pieces.
Mix with the sauce.
09/09/2007