Ann's Dower House Chutney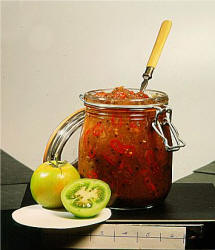 Ingredients
1½ lb plums
2 lb green tomatoes, skinned and sliced
1½ pints malt vinegar
4 cloves garlic, skinned
12 oz onions, skinned
2½ lb apples, peeled and cored
8 oz dried fruit
1½ tablespoon pickling spice
1 lb Demerara sugar
4 level teaspoons salt
Method
Wash the plums halve them and remove the stones Put in a preserving pan with the tomatoes and vinegar and simmer until soft.
Mince the next 4 ingredients and stir into the cooked mixture Tie the pickling spice in muslin and add to the mixture with the sugar and salt Simmer for about 2 hours until tender and reduced to a thick consistency.
Remove the pickling spice, put into pots and cover with a vinegar-proof lid.
09/09/2007