Mushroom Lasagne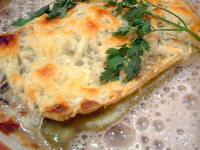 SERVES 6.
Ingredients
1oz frozen leaf spinach, thawed
Salt and pepper
Olive oil
About 12 oz fresh lasagne or 8 oz dried lasagne
2 lb mixed mushrooms
4oz butter.
2 tsp lemon juice
3 oz plain flour
1 pint milk
1 pint veg stock
Freshly grated nutmeg, to taste
2 large garlic cloves, skinned and crushed
6 oz Gruyere cheese, grated.
Method
Drain spinach and squeeze out any excess liquid. Chop finely.
*Add a dash of olive oil to each, followed by the lasagne.* (see shorter version below) Cook according to packet instructions, stirring occasionally.
When the pasta is tender, drain it in a colander and immediately run cold water over it. This stops the pasta from cooking further.
Spread the pasta out on clean tea towels and cover with a damp tea towel until required. Quarter or slice the mushrooms. Melt half butter in a large saucepan. Add the mushrooms and lemon juice, and season with salt and pepper. Cover and cook over a fairly high heat for 4-6 mins or until the mushrooms are tender. Remove from the pan with a slotted spoon, then bubble the juices to evaporate any excess liquid until there is only fat left in the saucepan.
*Melt the remaining butter in the same saucepan.* (see shorter version below) Stir in the flour and cook for 1-2 mins, then blend in the milk, stirring all the time. Cook for 1-2 mins or until boiling. Mix in the nutmeg, garlic and spinach. Spoon a little sauce into the base of an ovenproof dish. Top with a layer of pasta followed by a layer of mushrooms. Spoon over more of the sauce, then continue layering the ingredients., finishing with the sauce, making sure that it completely covers the ingredients underneath.
Sprinkle over the Gruyere cheese and breadcrumbs.
Stand the dish on a baking tray and cook at 200 degrees C for about 45 mins to 1 hour.
SHORTER VERSION.
Can I add that, instead of making up the béchamel sauce above, you can just buy a jar (which I usually do). Also, the lasagne sheets can be bought pre-cooked, OR I prefer the fresh sheets. Turns out far nicer and saves a whole lot of bother.
28/08/2007