Paddy's Irish Cream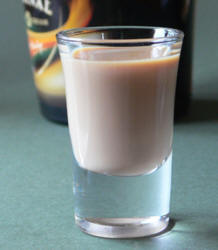 To make an outstanding Irish Cream proceed as follows.
1 egg
1 can of Sweetened Condensed milk. ( 300ml. )
1/2 Pint of Whipping Cream. ( Heavy )
1 tsp. Instant Coffee
1 tsp. Instant Cocoa.
1 1/2 cups of Irish or Scotch Whisky. I use PE Island shine.
Put all of the ingredients in food blender and blend until mixture is smooth.
Bottle and refrigerate. Before serving "Shake Well".
Any type of of Whisky can be used in this recipe. I have often used 2 cups instead of the called for 1 1/2 cups just to boost the kick.
Remember: DON'T DRINK AND DRIVE.
23/11/2007