Summer Fruit Pavlova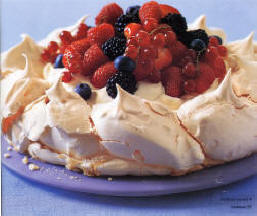 SERVES: 8; PREP: 15 mins; COOK: 1½ -1½ hrs.
4 medium egg whites
225g/8oz caster sugar
1 tsp raspberry or white wine vinegar
1 tsp cornflour
1 tsp vanilla essence
450m1/½pt double cream
2 tbsp icing sugar
350g/12oz prepared summer fruits (see Cook's tip)
1/ Preheat the oven to 150C/Fan 130C/Gas Mark 2. Draw a 20cm/8in circle on a sheet of baking parchment. Lightly oil a baking sheet; line with the parchment.
2/ Whisk the egg whites in a clean, grease-free bowl until they form stiff peaks.
3/ Gradually whisk in the sugar until the mixture is really thick and glossy. Fold in the vinegar, cornflour and vanilla.
4/ Spread a third of meringue out on baking sheet inside circle. Heap remaining meringue in spoonful's on top, drawing each into a peak (see pic). Bake for 1½- 1½ hours until crisp and firm.
5/ Transfer to wire rack to cool; peel away the parchment. Whip cream and icing sugar until soft peaks form; heap into the centre of the Pavlova; top with the prepared fruits. Use a spoon to create the peaks
Cook's tip
We used a mixture of strawberries, raspberries, blueberries, blackberries and redcurrants but you could use any combination of fruits you like. Sliced pineapple and mango mixed with passion fruit seeds makes a zingy tropical fruit filling.
01/09/2007