Chewy Fudgey Triple-Chocolate Brownies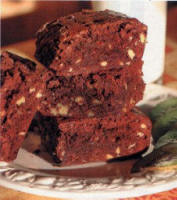 MAKES 64 MINI BROWNIES
Ingredients
150g good-quality dark chocolate (semi-sweet or bittersweet), chopped
50g unsweetened chocolate, chopped
110g unsalted butter, cut into quarters
3 tbsp good-quality cocoa powder
3 large eggs
250g sugar
2 tsp vanilla extract
½ tsp salt
150g plain flour
Method
Adjust the oven rack to the lower-middle position and preheat the oven to 180C/160C fan/gas mark 4. Spray a 20cm square baking tin with nonstick cooking spray. Fold 2 x 40cm-long pieces of foil to measure 18cm wide. Fit one sheet in the bottom of the greased tin, pushing it into the comers and up the sides (overhang will help in removal of baked brownies). Fit the second sheet in the same manner, perpendicular to the first sheet. Spray the foil with nonstick cooking spray.
In a medium heatproof bowl set over a pan of almost-simmering water, melt the chocolates and butter, stirring occasionally until the mixture is smooth. Whisk in the cocoa until smooth. Set aside to cool slightly.
Whisk together the eggs, sugar, vanilla and salt in a medium bowl until combined, about 15 seconds.
Whisk the warm chocolate mixture into the egg mixture, then stir in the flour with a wooden spoon until just combined. Pour the mixture into the prepared tin, spread into the comers, and level the surface with a rubber spatula.
Bake until slightly puffed and a toothpick inserted in the centre comes out with a small amount of sticky crumbs clinging to it; 35-40 minutes. Cool on a wire rack to room temperature, about 2 hours. Remove the brownies from the tin using the foil handles and transfer to a cutting board.
These brownies are very rich, so cut them into 2.5cm squares. Serve immediately, or they can be wrapped in plastic and refrigerated for up to 5 days.
VARIATION
Triple-chocolate espresso brownies
Follow the main recipe, whisking in 1½ tbsp instant espresso or coffee powder along with the cocoa.
01/09/2007