Ann's Vegetable Lasagne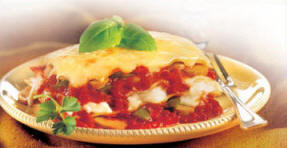 SERVES 6.
Ingredients
2 tsb olive oil
1 garlic clove, crushed
1 carrot, peeled and chopped
1 large onion, sliced
1 red pepper, chopped
1 level tsp mild paprika
2 level tsp dried oregano or marjoram
1 large aubergine, trimmed and cut into large chunks
8 oz button mushrooms, wiped and sliced
2 large courgettes, sliced
2 cans chopped tomatoes
2 level tbsp tomato puree
2 bay leaves
12oz fresh lasagne or 8 oz dried
Salt and pepper
1½ pints Béchamel Sauce (you can buy this)
Parmesan or Cheddar cheese, grated (optional)
Method
Heat the oil in a large saucepan. Add the garlic, carrot, onion and pepper and fry for 1-2 minutes or until beginning to soften.
Add the paprika, herbs and aubergine and fry for a few minutes more.
Add the remaining vegetables in the pan with the tomatoes, tomato puree and bay leaves. Bring to the boil, then reduce the heat, cover and simmer for 30 minutes. Spread a small amount of the tomato sauce in the base of an ovenproof dish. Cover with a layer of lasagne and top with a layer of Béchamel sauce.
Continue layering ending with a layer of Béchamel sauce that covers the pasta completely. Sprinkle with the cheese.
Bake in the oven at 200 degrees C for 45 min-1 hr. or until the lasagne piping hot and well browned.
Can I say that you can use your own combinations of vegetables and you don't have to use all the ones above.
28/08/2007