Donald's Milk Scones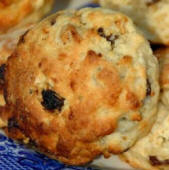 INGREDIENTS:
1/2 cup milk
1 egg, beaten
2 cups sifted flour + flour for work surface
2 teaspoons baking powder
1 teaspoon salt
1 tablespoon sugar
1/4 cup butter, cut into small pieces
1/2 cup raisins or currants
Milk and sugar for tops
INSTRUCTIONS:
Preheat the oven to 450°.
Combine milk and egg.
Sift together flour, baking powder, salt and sugar. With a pastry cutter or two forks, cut in butter until mixture resembles coarse meal.
Add raisins, then the milk and egg combination.
Mix quickly with a fork until dough clings together.
Turn out onto a floured surface and knead very lightly 8 or 10 times (gathering it together more than kneading).
Place the dough on a floured surface, sprinkle lightly with flour and gently roll out or pat into a sheet 1/2 inch thick. Cut into 2-inch rounds.
Place on baking sheet lined with parchment. Brush the tops with milk and sprinkle with sugar.
Bake for 10-12 minutes.
Serve warm, and split, with lots of butter and jam.
Yields 12 scones.
Richard
Try this but don't forget to wear a pinny when cooking
Donald
10/07/2007