Pat's Vegetable Roll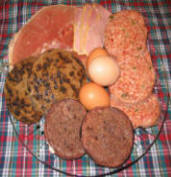 Sandra, I have no official recipe for vegetable roll but here is my own recipe.
Use your favourite veg.
I use carrot, onion garlic & fresh herbs.
Chop vegetables finely.
Sauté in pan with butter.
Mix fresh mince with a beaten egg & salt & pepper, then add & mix in well the sautéed veg.& herbs.
Roll out on a lightly floured board into a long roll.
Wrap in cling film & put into fridge overnight.
Cut into rounds & fry in Virgin Olive Oil.
Bon appétit.
Pat.
26/08/2007