Serbian Bean Soup.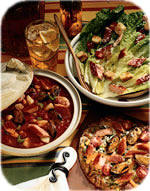 Recipe:
Steep 2 pounds of white beans overnight
Fry a pound of sliced onions in a little oil together with 6 ears of fresh chopped and crushed garlic until glazed. Then add a pound of smoky bacon diced and maybe some Salami also diced..
Season liberally with pepper, paprika, a little salt and continue frying but don't allow the oil to overheat.
Add a tin of tomatoes or a small tin of tomato puree .
Drain beans and add to pot.
Add one cup of chopped scallions and parsley.
Add some Bisto or equivalent and a few drops of Tabasco or some other sharp seasoning ( not too much ).
Add a little vinegar to give it that tangy taste.
Add some hot water until it has the correct texture and simmer until beans are cooked ( AL DENTE ) not too mushy.
Serve with rolls .
A tip If you cannot get dried white beans you can use baked beans in tomato sauce or Chili beans but add just before serving making sure they are warmed through. Cooking them too long will make them mushy.
Using Chili beans means you have to use less Tabasco as they are already hot.
Güten Appétit
Don
20/08/2007