Fluffy Chinese Rice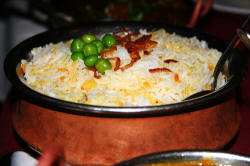 Recipe:
Any long grained rice, just covered with about 1 inch of boiling water, put on lid and bring to a boil. Turn cooker to simmering and cook until rice is fluffy and dry.
DO NOT remove lid until cooked, when all water is absorbed. You may shake the pot to prevent sticking.
My grandson's Chinese fiancé, who is in Hotel Management, made this and it is delicious, fluffy and light as a feather. She only uses the best fresh ingredients for cooking, preferably organic. The food is not too spicy either. They only eat 2 meals a day, a light b/fast & main meal, drink hot or cold water, no wine or spirits. In fact they eat more noodles than rice.
Absolutely no tinned food only fresh beef, chicken or fish, loads of vegetables. Cancer rate in China is 1 in 14, here 1 in 4 and they smoke like chimneys. A slimming tip?
Pat Burns