Lemon Cheese cake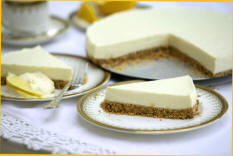 Recipe:
8/10 ozs Digestive Biscuits
4 ozs of Butter
Philadelphia Cheese (1/2 or 3/4 of tub)
1 Tablespoon sugar
1 Lemon
1/2 Lemon Jelly
Small tin Condensed Milk.
Break biscuits into breadcrumbs.
Heat butter until melted and add above biscuits.
Put into a tin or dish a leave to cool (better if tin has a false bottom)
Put condensed milk into a mixer not the whole tin (leave a little in tin) depends on the size of dish
Add sugar Philadelphia cheese, I would add 3/4 cheese of tub, but 1/2 will also do.
Put the 1/2 lemon jelly into 1/3 cup of hot water and melt and add this to the mixture.
Add a good squeeze of lemon juice to the mixture Mix the above well.
Pour over biscuit mixture and leave to cool then put into fridge until it is set. Can also be frozen.
Add which ever fruit you want and serve when ready.
You don't taste the cheese at all for those who don't like cheese.
15/04/2007