Home-made Sausage Patties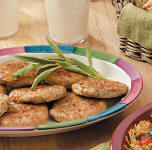 Here is a recipe I made up one morning when I had run out of sausages for breakfast but had sausage meat in the fridge.
Recipe:
Sausage meat, fresh parsley or other herbs to taste, flour, salt & pepper.
Mix well & shape into thin cakes.
Fry gently in oil or butter until browned on both sides.
Pat
30/03/2007