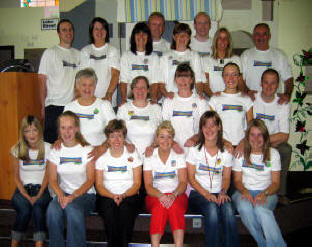 On Monday 15th August 2005, a seemingly endless queue of 100 children of primary school age enrolled for 'Streetwise' the Holiday Bible Club at Immanuel Baptish Church, Ballymacash. The stage area of the church depicted a typical 'street' where Jesus ministered.
Each day at the Holiday Bible Club, one of the leaders appeared in the makeshift biblical street and narrated a story from Luke's Gospel to the large crowd of children.
Stories included: "The healing of the lame man," "The cheat's house - Zacchaeus," and "The Passover".
In addition to the 'Streetwise' Bible stories, the children enjoyed a super fun-packed programme that included singing, craft, quizzes, games and a puppet show.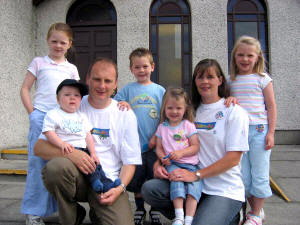 The club was held Monday 15th to Friday 19th August 2005 from 10.00am to 12.15pm.
Led by Assistant Pastor - Alistair Quigley, Lisa Quigley and Rachel Williams, the team of leaders were: - Julie-Ann Cleland, Naomi Foster, Elaine Glendinning, Maureen Taylor, Jenny Foster, Margaret Roberts, Noreen Littler, Elaine Murdock, Catherine Wright, Robert Murdock, Maeve Preston, John Palmer, Liz Palmer, Wesley Wright, Lynn Martin, Tommy Roberts, Amanda Cromie, Evelyn Hanna, Jane Atkinson, Carol Adams and Lila West.
Pictured at the Holiday Bible Club - 'Streetwise' in Emmanuel Baptist Church, Ballymacash are Pastor Robert Murdock and his wife Elaine with their children Caleb and Grace, and (back row) Katherine, Adam and Jane.