New Parish Priest very touched by warm welcome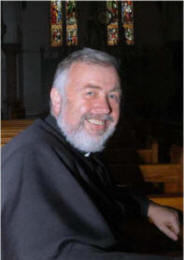 LISBURN'S new Parish Priest told the Star this week how touched he has been by the welcome extended to him since his arrival at St. Patrick's Church in Chapel Hill.
Father Hugh Kennedy who has come to Blaris Parish from the Sacred Heart Church in Belfast's Oldpark area said he was 'delighted' with his new charge.
He said he found local people to he 'very warm' during his first weekend in the city and added he had been very moved by the fact one of the first people to welcome him to Lisburn had been a local Presbyterian Minister.
Father Kennedy stressed it was his intention to build on the 'great work' carried out by his predecessor Father Sean Rogan in the field of inter-church relations.
"Father Rogan spoke very warmly to me of the co-operation and fellowship he received during his time in Lisburn from other denominations throughout the city," he added.
Father Kennedy also explained his arrival in Blaris coincided with the beginning of what looks set to be a busy period.
Sadly, structural problems mean the current parochial house which is around 100 years old has to be demolished.
However, before this happens a new residence will be constructed behind it alongside a new parish centre to replace St. Joseph's Hall.
This Centre, Father Kennedy explained, will provide rooms in which youth groups and other organisations can meet.
It will cater for the whole parish and all age groups will be able to use it," he added.
"Hopefully, all the work will begin within the next six weeks and will be completed within a year and a half."
Father Kennedy feels he has arrived in Lisburn at a 'very exciting time' in its development.
"It is one of the newest cities and you can sense there is a lot happening here," he said.
He also felt the Parish, which is the third largest outside Belfast in the Diocese of Down and Connor offers an almost unique mix of the rural and urban.
"I have worked in both country and city parishes but Blaris is a combination of both," he said.
"As well as St. Patrick's at Chapel Hill in the centre of the city, we also have Magheragall, Magheramesk and Reilly's Trench."
Father Kennedy who is Bishop Patrick Walsh's official Master of Ceremonies recalled previous visits to Lisburn in this capacity.
One of these, he said, was the consecration of St. Patrick's carried out following the renovation of the church's interior several years ago.
"I actually had a photograph of myself on that occasion hanging on the wall in my previous house," he explained.
He also visited the city when Dr. Walsh attended the recent celebrations marking 200 years of St. Colman's Church at Reilly's Trench.
"On that occasion the Bishop said how impressed he was not only by the loyalty of the Catholic community there but also by the support offered by members of other churches," he added.
Father Kennedy knows the Senior Minister of First Lisburn Presbyterian Church Rev. Dr. Gordon Gray very well.
"A number of years ago I had the great privilege of giving one of the readings at a special service in the church," he said.
"I was warmly welcomed by the then elders and I was very touched by the hospitality I received." Father Kennedy is a member of the family which owned Belfast's famous Kennedy Bakery.
He grew up in the Malone area, his home parish being St. Brigids at Derryvolgie Avenue, and was educated at the adjoining St. Bride's Primary School before going on to St. Malachy's College.
As a child he often visited Lisburn on shopping expeditions.
He also heard a great deal about Lisburn from his family's neighbours, a Mr. and Mrs. Madden who ran a grocer's shop in the town.
After leaving St. Malachy's Father Kennedy took his degree at Queens University.
He also studied in Rome and Paris before attending the Seminary in Maynooth.
He was due to be ordained by Pope John Paul II in the Italian capital in 1981 but his ordination was brought forward because of a need for new clergy created by the death of four priests within the Down and Connor Diocese.
The ceremony was instead conducted by Bishop Agnellus Andrew.
However, he was presented with a set of the Pope's vestments for his ordination which he still possesses.
"As it turned out the Pope would not have been able to ordain me anyway as he was shot on May 13 of that year," lie added.
Father Kennedy's first parish was Castlewellan in Co. Down.
He then moved to Glenravel at Martinstown in the Glens of Antrim before going to Paris where he spent three years taking a Masters Degree in Theology.
"I enjoyed that very much and then I came back to Northern Ireland to work at St. Paul's Church on the Falls Road," he explained.
"I spent two and a half years there and I was then due to go back to Paris to finish my Doctorate. "However, my father became ill and the then Bishop Cahal Daly decided I should take my studies at Maynooth where I remained for four years.
"Then it was back to Belfast to St. Bernadettes in Rosetta before I moved to Sacred Heart where I stayed for eight years before moving here." Father Kennedy has just stepped down as Chairman of the Trust set up to look after Ulster's church heritage.
He is also Chief Chaplain to the Order of Malta in Ireland.
He is assisted in his new charge by Father Eamonn McGorrian and Rev. Dr. Eddie Magee, a lecturer at St. Mary's College who assists in Blaris parish at weekends.