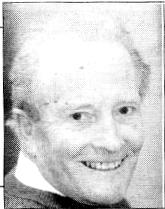 Thought for the week
EACH week a member of the local clergy will be sharing their thought for the week. This week Rev Alex Cheevers, rector of Magheragall Parish Church, reminds people that the tough times, no matter how tough, will eventually pass if you `hang in there'.
ONE morning many years ago my wife Maureen and myself were going through a difficult time when we were overwhelmed with life's problems.
We were wondering, 'how can we cope with all of this?' We couldn't see any way through a lot of problems. Even clergy get bogged down with deadlines, worries and problems.
We were sitting talking about it all when the postman arrived with a post card from half way around the world. On the front of the card had a photograph of an anxious looking little cat, hanging with its two front paws wrapped around a thin branch of a tree.
The cat was looking down towards the ground, and was obviously in great danger of falling.
On the card were printed the words 'Hang in There!' On the back of the card were a few lines from the friends who had sent the card. 'This is just to say that we love you and want you to know that we are thinking of you." They signed of with the words, 'Hang in there!'
That card arriving changed our whole attitude to our situation. We knew that we were not on our own. We knew that someone out there cared enough to contact us. We knew that God was encouraging us. We were reminded that if we 'hung in there' the difficult times would pass.
We were also reminded also of how St. Paul says that in life there are times when we need to 'persevere' Biblical language for 'Hang in there.'
Who is out there in your life that could do with a phone call to encourage them? Who is there who could do with you calling to see them? Many a person has been saved from disaster or tragedy by the thoughtfulness of a friend making a call.
On the other hand if your are the one who is finding life tough at the moment, ask the Lord for the strength and wisdom that you need. And 'Hang in there!'