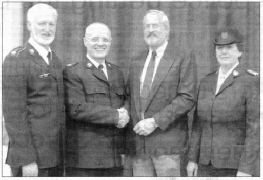 THE Salvation Army have been celebrating the installation of Major David Jackson as leader of The Salvation Army throughout Ireland which took place on Saturday August 6.
Major Jackson has been a Salvation Army Officer for 29 years ministering at churches across England, working with young people and he has just completed a three-year appointment at The Salvation Army's International Headquarters Personnel Department.
Lieut-Colonel Vic Poke, Chief Secretary of The Salvation Army in the UK and Republic of Ireland conducted the installation ceremony at a lively welcome meeting on Saturday evening at Belfast Temple Salvation Army Corps.
Majors Warren and Denise Parkinson, who have come to minister at Sydenham Corps, all the way from Australia, and Majors Jim and Anna Benson who will be ministering at Ballymena and Ballymoney Corps were also welcomed.
"As Leader of The Salvation Army in Ireland, I want to encourage the great work that has been, and is being accomplished in our Churches and Social Centres across Ireland at this time," said Major Jackson.
"I trust that we might see future growth, not just numerical, but a deepening spiritual growth within our churches and one which would be evident to all who turn to The Salvation Army for whatever reason through-out the year.
"I also want to bring a verse of scripture before the people of The Ireland Division, its Proverbs chapter 3, where we are encouraged to trust in the Lord. These words have been a source of encouragement to me as I have endeavoured to live out my Christian life. Ihave learnt to trust more in God and less in myself and to allow Him to lead me, as I trust He will continue to do in this new appointment".
The Salvation Army touches thousands of lives each year through its 20 churches which are engaged in a range of community programmes, and its eight social centres which provide accommodation and support for those who are homeless or no longer feel able to live alone.
Over the next few weeks blue 'Belief in Action' envelopes will be dropped through doors as part of The Salvation Army's Annual Appeal to raise vital funds for the charities social and community work.
For further information on any aspect of The Salvation Army's work contact Divisional Headquarters at 028 9067 5008 or log onto www.salvationarmy.co.uk.