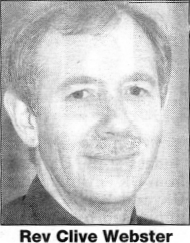 EACH week members of the local clergy will share a thought for the week. This week Rev Clive Webster from Trinity , Magheragall and Broomhedge Methodist Churches shares his love of the parables that Jesus tells
I LOVE the parables that Jesus tells. He takes a simple story, fills it with meaning and causes us to apply its truths to our own lives and circumstances.
In Luke ch.18 Jesus tells the story of a Pharisee and tax collector who go to the temple to pray.
The Pharisee was a deeply religious man and proud of it. He reminds God of all his virtues and thanks him that he isn't like other, more sinful men - especially the tax collector, whom he can see out of the corner of his eye.
The tax collector, despised by many, regarded as a cheat and even a traitor to his people, stood at a distance, with head bowed and prayed simply, "God have mercy on me, a sinner."
Those who heard Jesus that day were probably surprised how the story ended. They may have expected Jesus to say that the Pharisee, regarded by all as a righteous man, would be listened to by God; whereas the tax collector, the sinful man, would be ignored.
To the amazement of all, Jesus said of the tax collector, "I tell you that this man, rather than the other, went home justified before God."
So what can we learn from this parable? Firstly, we learn that both men did what must be done. They came to
spend time with God. They came before God to pray. It's what God wants of all of us. Isaiah 55:6-7 tells us to seek the Lord, to call on Him, to turn to Him.
Secondly we learn what must be done must be right. The Pharisee came before God with all his pride, self-righteousness, arrogance and disdain for others. His attitude was wrong.
The tax collector came before God in all humility. He knew that he was a sinful man; that he had nothing with which he could commend himself to God. With a contrite heart he simply asked God to forgive him; and he was forgiven. Jesus said that the tax collector went home right with God that day.
Thirdly, we learn that what must be done must be done right, and that it must be done right now.
So often folk feel the need that the tax collector felt, but felt unworthy of coming to God - as if God might be unwilling to receive us.
Perhaps the tax collector had felt that way for some time before he came to God that day. But he took his opportunity and his prayer was answered.
There is a word of encouragement for us all in 2 Corinthians 6:2 '1 tell you, now is the time of God's favour, now is the day of salvation.'
Let's do what must be done, do it right, and do it right now.