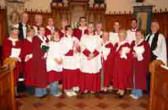 The story of the Nativity was presented in a festival of Nine Lessons and Carols by Candlelight at the Cathedral Church of Christ the Redeemer, Dromore last Sunday evening (17th December). The Rector, the Rev Stephen Lowry, Dean of Dromore welcomed the large congregation and thanked all who took part in the service and in particular Charlie Sherwin (Verger) who decorated the church so tastefully with over 200 candles set in beautiful displays of branches, holly and foliage.
David Falconer - organist, James Patience on harp and Dromore Cathedral Choir sang the anthems, 'I know a rose tree springing', 'Nativity Carol', 'Star Carol' and 'A Maiden most gentle'. The nine congregational carols were, 'Once in Royal David's City', 'Make way', 'O little town of Bethlehem', 'See amid the winter's snow', 'Silent Night', 'Away in a manger', 'Unto us is born a son', 'Hark the Herald angels sing' and 'O Come all ye faithful'. The nine lessons were: Geneses 3, read by Helen Scott, Isaiah 9 read by Darrell Stewart, Micah 5 read by Bill Forsythe, Luke 1 read by Agnes Thompson, Matthew 1 read by Pat Black, Luke 2 (1) read by the Organist - David Falconer, Luke 2 (2) read by Alan Barr, Matthew 2 read by the Curate - the Rev Trevor McKeown and John 1 read by the Rector - the Rev Stephen Lowry.
After the service, seasonal refreshments were served in the church.
18/12/2006