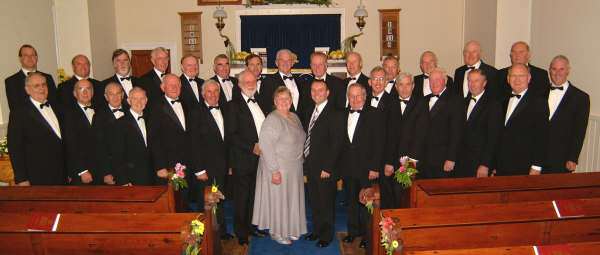 The Rev William Henry pictured with David Thompson - Director of Music, Gertrude Jamieson - pianist and members of Dromore and District Male Voice Choir who led the praise at a harvest thanksgiving service in Ballinderry Presbyterian Church last Monday evening.
A weekend of harvest celebrations at Ballinderry Presbyterian Church concluded last Monday with an evening of praise by Dromore and District Male Voice Choir. Conducted by Director of Music, David Thompson and accompanied by Gertrude Jamieson on piano, the choir sang, 'Holy, Holy, Holy', 'Come let us to the Lord our God', 'Walking with Thee', 'Rocking my soul', 'Guide me O thou great Jehovah', 'Here is love, vast as the ocean' and 'When I survey the wondrous cross'.
George Ellis on organ led the congregational singing. The hymns were, 'Come ye thankful people come', 'For the beauty of the earth', 'Fountain of mercy, God of love' and 'How great thou art'.
The Rev William Henry led the service and welcomed the congregation, the choir and all visitors. In his address based on Hosea 10 v 10-15, he spoke that while there is an importance of being content with what we have and giving God thanks for our many blessings, there is a danger of being overly content even spiritually! He emphasising the need to give God the central place in our lives explaining that God wants us to give our all because He gave His all for us, so freely on the cross.
The service was followed by a harvest supper in the church hall.
The Rev William Henry was also the speaker at the harvest thanksgiving service last Sunday morning and the Rev Angus Stewart, minister of Dundrod Presbyterian Church, was the guest speaker on Sunday evening.