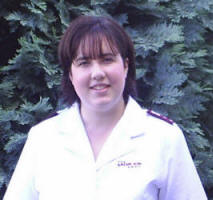 Captain Kat Mclean was among 23 new Salvation Army Officers who have been commissioned at Wembley Conference centre. This special ceremony or ordination was the conclusion of two full years of training at The Salvation Army's William Booth College - training which will have equipped the students to serve their communities, tell the Christian story and fight for social justice as ministers of religion.
Captain Kat Mclean will share a joint appointment with her husband Captain John who has served as an Officer for five years. The couple have been appointed to minister at both Lisburn and Belfast North Salvation Army Churches. They will be responsible for the ministry, pastoral care and support of the congregation at Belfast North and for establishing new community focused programmes at Lisburn along with a creative family friendly environment for Sunday worship.
Kat came to The Salvation Army at Hedge-end in 1996, where John later became the minister in June 2001. While it wasn't quite love at first sight, the couple were engaged within 18 months. Kat felt called to officership from the age of 14 and entered training through the Army's correspondence course in 2004. Just 2 months later John was appointed to Belfast and the couple moved to Northern Ireland. During this time Kat has completed approximately 80 assignments and 2 placements as well as travelled to the training College in London for 10 residential sessions. She has also assisted John in developing new programmes in Lisburn Salvation Army and given birth to their two daughters Honor (2 years old) and Charis (5 months).
"It has been a tough two years with many challenges and opportunities" explained Kat. "The training has taught me so much but most importantly it has shown me how amazing God is and how He can use me to bring hope to the community in which I serve. I'm looking forward to my future as an Officer and I can't wait to see what God has in store for me, my family and for the people of Lisburn and North Belfast. "
Major David Jackson - Leader of The Salvation Army in Ireland attended the commissioning and said "We are delighted that Kat will has returned to Ireland to work with her husband at Lisburn and Belfast North. She has much to contribute to the mission of the Salvation Army, and will be an asset to our work within the division.