Kenneth Nelson, Student Assistant Minister at Legacurry Presbyterian Church was licensed as a Probationer for the Ministry by a commission of the Presbytery of Armagh at a Service of Licensing in Hill Street Presbyterian Church, Lurgan on Sunday 21st May.
Mrs Claire Crawford opened the service with a solo entitled 'There is a higher throne'; the Rev William Moody - Moderator of Armagh Presbytery, gave the call to worship and led the prayers; the Rev Alastair McNeely - Convenor of the vacancy at Hill Street Church read the Scriptures and gave the sermon; the Rev Colin Harris - Clerk of Armagh Presbytery and the Moderator conducted the Act of Licensing. Kenneth Nelson's youngest son Ben accompanied by Alastair Hamil sang the song 'Unto Him be the Glory.' In his charge to the new licentiate, which was based on a passage from Timothy, the Rev Drew Moore - Minister Emeritus of Hill Street Presbyterian Church, stressed the priority of preaching the Word.
After the service, the ladies of the congregation served supper in the church hall to over 200 people including Kenneth's family, friends present and past, and members of the congregations of both Hill Street and Legacurry.
Kenneth Nelson, formerly a teacher in Lurgan College Grammar School has just completed his formal training for the Presbyterian ministry at Union Theological College in Belfast. He is the son of the late Gerald Nelson and Edith now in her 81st year. Kenneth and Marlene have three grown up children, Sarah-Jane, Aaron and Ben and two grandchildren. During training Kenneth served terms in Banbridge Road Dromore, Gilford and Tullylish and 1st Armagh Presbyterian churches. The Nelson's have a keen interest in mission and have spent two short but memorable visits to Malawi.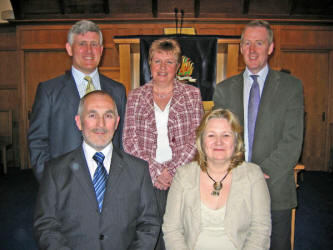 Pictured at a Service of Licensing in Hill Street Presbyterian Church, Lurgan on Sunday 21st May is L to R (seated) Kenneth Nelson and his wife Marlene. (back row) The minister of Legacurry Presbyterian Church, the Rev Bobby Liddle, his wife Ann and John Ferguson - Legacurry's Clerk of session.