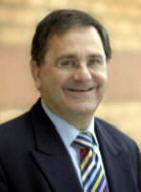 Roger Carswell
'Mission Real Lives'- Real People, Real World, Real Hope, organised by Lisburn Baptist Church and Emmanuel Baptist Church will be held in the Island Civic Centre from Sunday 26th of March to Sunday 2nd of April 2006.
The theme of the Mission is "let me tell you my story" and the speaker each night is Roger Carswell, a well-known evangelist from Leeds. In addition to telling you his story, Roger will be conducting a Michael Parkinson style interview each evening with a variety of people about their life experiences and the difference their Christian faith has made to their lives. Others taking part will be John Mosey and his wife Louise, who lost their daughter in the Pan Am Flight 103 over Locherbie; and Mike Mellor and Alison Kavanagh who both overcame their struggle with addiction; and a number of high profile sports personalities like Michael Ferguson.
Over the next number of weeks an invitation to this event will be dropped through the door of every home in the Lisburn area, giving details of the full programme and those taking part. There will also be a large banner in Bow Street advertising the "let me tell you my story" theme of the Mission.
During the week of 'Mission Real Lives' the Island Centre will be open during the day for a variety of related activities including an International Friendship Day on Wednesday for those who have come to live in Lisburn from other countries and on Thursday a Leeds University professor who believes in creation, will be available to answer your questions. On the week before the Mission, the Ulster Star will publish a large advertisement giving full details of all the events. There is an exciting programme planned and what is even more exciting is that probably for the first time admission is free to an event in the Island Civic Centre. So, watch this space.