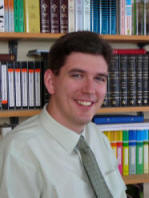 Lisburn Reformed Presbyterian Church is hosting a Bible Conference for the Lisburn community during the week Sunday 22nd to Sunday 29th October each evening at 8.00 pm (Sabbath at 7.00 pm). The conference will consist of a week of preaching on the topic: 'The Lord's Prayer' and the preacher is the Rev Warren Peel.
Mr Peel, a native of Belfast, was educated at BRA and Oxford University before training for the ministry at the Reformed Theological College, Belfast. He and his wife Ruth, with their two children live in Coleraine where Warren is the minister of the local Reformed Presbyterian congregation.
The Lisburn Congregation is looking forward to this time of Conference. In the words of their minister the Rev Robert McCollum, "We are really looking forward to the ministry of Mr Peel and believe that this is a wonderful opportunity for the community to be better informed about this famous prayer which lies at the heart of the Christian faith".