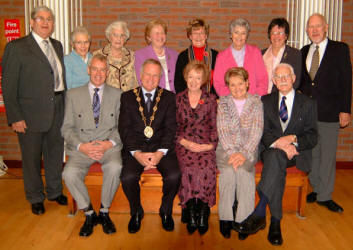 Pictured at morning worship at the Religious Society of Friends (Quakers) last Sunday (5th November) are L to R: (seated) Kenneth Brown, the Mayor - Councillor Trevor Lunn, the Mayoress - Mrs Laureen Lunn, Ellen Brown and Joe Kennedy. (back row) Cecil Lane, Muriel Cameron, Vera Lane, Anne Tollerton, Kathleen Hobbs, Pearl Swain, Irene Bell and Alan Bell.
During his year of office as Mayor, Councillor Trevor Lunn and the Mayoress - Mrs Laureen Lunn took the initiative of offering to visit all churches in the area allowing them to experience the various forms of worship. There are 134 churches and places of worship in the Lisburn City Council area and last Sunday (5th November) they attended morning worship at the Religious Society of Friends (Quakers) at the Friends Meeting House in the grounds of Friends School. Joe Kennedy welcomed the Mayor and Mayoress and with nothing special arranged for the service and no publication of the event, they were able to experience Quaker worship as they practice it on a regular basis. Refreshments were served after the service allowing the "friends" to meet and chat with their visitors.

Quaker Faith & Practice
The Quaker faith springs from the experience that each one of us can have a direct relationship with the Divine. They find that by meeting together for communal worship they are empowered to find peace and strength for work in the world. Formally Quakers are the Religious Society of Friends and hence often refer to each other as "Friends". The public more commonly refer to them as Quakers. More than twenty seven thousand people attend Quaker meetings for worship in these islands. These quiet times of seeking the presence of God are held in about 500 places, many of them Quaker owned Friends Meeting Houses. Since its foundation in England in the 1600s, Quakers have tried to make a practical witness to our religious convictions and are especially active in peace work, human rights and social reform.

Quakerism in Lisburn
The first Quaker Meeting House in Lisburn, a simple thatched building, was erected in 1658/9 in the garden of George Gregson, a prosperous goldsmith who lived on the corner of Market Square and Jackson's Lane (now Railway Street). Entry was via a narrow lane from the Square. The building survived the great fire of Lisburn on 20th April 1707 as it lay on the leeward side. In 1793, a more substantial replacement was built on the same site and accessed from what is now Railway Street. In the first half of the 19th century Quakerism grew significantly so a much larger Meeting House was built in 1853, fronting on to Railway Street. Since Friends were not welcome to bury in consecrated Church grounds, more of Gregson's garden was granted for a burial ground. This is located behind a high wall in Railway Street and was in use from 1774 to 1899. The old Meeting House has been sold, and since March 1997, Friends have occupied the present Meeting House in the grounds of Friends School.
16/11/2006