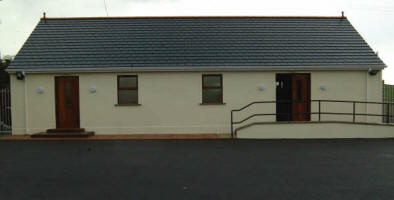 The new Magheraknock Mission Hall
| | | |
| --- | --- | --- |
| | | |
| Mrs Babs Fox is pictured cutting the tape to mark the official opening of the new Magheraknock Mission Hall last Saturday afternoon (11th November). Included is L to R: Sam Sommerville, Trevor Matthews - Faith Mission, Babs Fox, Ronnie Douglas and Ethne Douglas. | Kirsty Waddell is pictured presenting a bouquet of flowers to Mrs Babs Fox who opened the new Magheraknock Mission Hall last Saturday afternoon (11th November) | Mrs Babs Fox (left) and Mrs Elizabeth Truesdale (right) have remained good friends since they attended the Magheraknock Primary School in the 1920s. Included is the photo is Babs's daughters Bertha Weighhill (Cambridge) and Maureen Cawden (Liverpool) and Elizabeth's daughter Anne Gamble. The photo was taken at the official opening of the new Magheraknock Mission Hall last Saturday afternoon (11th November). |
The new Magheraknock Mission Hall was officially opened last Saturday afternoon (11th November) by Mrs Babs Fox (wife of the late Eddie Fox - former director of the Faith Mission) and dedicated by Faith Mission Evangelist, Trevor Matthews. Babs, born in 1920, attended Magheraknock Sunday school as a young girl and prior to cutting the tape to mark the official opening of the new hall, she gave her wonderful testimony about how she come to faith in the old mission hall - 71 years ago. Sam Sommerville chaired the meeting and welcomed the large crown. He spoke about the difficulty of dismantling the old 1927 hall due to its solid foundation and compared this to the solid foundation – 'Christ Jesus', on which the fellowship was built - 79 years ago. Sam recalled the happy years he spent as a young boy at Magheraknock Sunday School when his father was the superintendent. He also recalled how a few years ago the "Lord dropped a little seed in his heart to build a new hall" and spoke about how "the seed grew" and continued by outlining the sequence of events leading to today's historical event, the opening of a beautiful new hall, "built to the Glory of God" and a place where the gospel message will be "faithfully preached". Sam concluded by thanking those who gave their time, talents and professional expertise to build the hall and also thanked those who helped financially.
In his address based on Ezekiel 37 - the valley of dry bones, Trevor Matthews spoke about the shaking and rattling, and how through the breath of the Spirit, the bones came to life. He compared this to the building of the new hall and said that during the building of the hall there was the shaking and rattling, but without the breath of the spirit it will be just dry bones. He emphasised the need to be Vitalised, Energised, Mobilised and Utilised and spoke about how the effectiveness of the ministry at Magheraknock will depend on the effectiveness of the Friday evening Prayer Union meetings which will ensure that the breath of the Spirit will create an army rising up to go forward in this place.
Ethne Douglas presided at the piano; the hymns were, 'To God be the Glory', 'How great Thou art', and 'Oh! Breathe of life, come sweeping through us'. The soloist Sam Houston, accompanied by Ethne Douglas, sang 'He became poor' and 'Give me a vision.'
The preacher at the gospel meeting last Sunday afternoon was evangelist Alan Bartley (Lifeboat Mission, Lisburn). A two-week Gospel Mission conducted by evangelist Paul Lutton (Cullybackey) commenced last Monday evening (13th November) and will conclude on Sunday 26th November. Services will be held each evening at 8.00 pm (Monday - Friday) and Sunday afternoons at 3.30 pm (there will be no meeting on Saturday evenings). Guest singers will include Moy Leahy (Castlewellan), Patricia Hamilton (Dromore) and Deborah Henry (Katesbridge). Everyone will be most welcome at these meetings.
| | |
| --- | --- |
| | |
| Pictured at the official opening of the new Magheraknock Mission Hall last Saturday afternoon (11th November) is L to R: Trustees (seated) - Parker Williamson, Glenny Waddell, James Carlisle, Sam Sommerville, Ronnie Douglas and Mark Gibson. (back row) Babs Fox, Ethne Douglas, Kirsty Waddell, Alex Reid, Margaret Reid, Bill and Anne Reid with children Lee-Anne, Petra and Douglas, Sylvia Reid, Joan Fletcher and Marella Marshall. | Sam Sommerville is pictured welcoming the large crowd that attended the official opening of the new Magheraknock Mission Hall last Saturday afternoon (11th November) |
12/11/2006