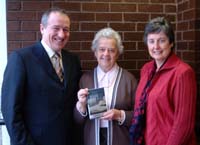 The late Rev Professor Fredrick Leahy, a well-known Christian author, lived in Manor Park, Lisburn for almost 18 years where he spent his retirement years. He was minister of the new congregation of Dromore Reformed Presbyterian Church for 8 years prior to the installation of the present minister, the Rev David McCullough, in 2003. In the last two years of his life his pen was particularly productive when he wrote the manuscript of a book entitled 'The Hand of God'. On Wednesday 4th January 2006 he walked to Lisburn Post Office with his wife Margaret and posted the manuscript to the publisher. When returning home, they walked past Eason's Shop in Bow Street and Margaret jokingly said to him, "Fred, should you not buy some notepaper to write your next book?" to which he replied, "Margaret, I have said all I need to say". It is particularly poignant when we realize that regrettably, Fred died that evening.
Prof Leahy's book has just been launched and the Rev Professor Robert McCollum, minister of Lisburn Reformed Presbyterian Church gives this informative review of the book, which he says, "demonstrates the comfort of having a Sovereign God looking after our lives". He continues, "Some people get the opportunity to give a few words of counsel to their family before their death. In this book we have Prof Leahy's parting message to his spiritual family - and what a message it is".
The book begins with a foreword by Geoff Thomas (Aberystwyth), a tribute to Prof Leahy by the publisher, 'Banner of Truth' and an introduction by the author in which he defines that the aim of his book is "to show that the sovereignty of God, as revealed in Scripture, is a comforting truth". In the 10 chapters that follow the thoughtful reader will find much to comfort as this great doctrine is taught and applied to many life situations. Picking up the common refrain from Scripture, 'the hand of God', we are introduced, in successive chapters, to the hand that Creates, Governs, Provides, Redeems, Keeps, Guides, Chastens, Blesses, Enables and Judges.
A short paragraph from the foreword illustrates the value of this spiritual gem.
"Here are the mature reflections of an old Christian who has longed to pass on to those coming after him some insights from his life-long service of our Lord Jesus Christ. It is utterly safe and full of wisdom. To read it has been a means of grace to me; more than that, it has been a delight." (Geoff Thomas)
In a world of apparent chaos and bewildering uncertainty this book reminds us that God is in control and He is working out His purposes in everything that happens. Some personal experiences of the author bring back fond memories to those who were acquainted with him.
Buy this book and read it. If you are a Christian, you will be able to face each day with a smile on your face and a spring in your step. If you are not a Christian, you will be constantly challenged to put your trust in this great God by accepting His Son, Jesus Christ, as your Saviour. The book (cost Ł6.00) is available at the Covenanter Bookshop, 39 Knockbracken Road, Carryduff, BT8 4SF. Tel. (028) 9081 4110 or online http://www.covenanterbooks.com/