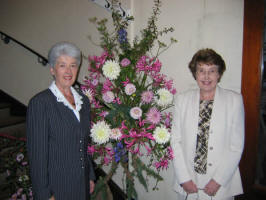 Elma Lindsay (left) co-ordinated the decoration of Railway Street Presbyterian Church for last Sunday's Harvest Services. Elma is pictured at one of the many beautiful floral displays with Vera Watson. Vera organises the distribution of Church flowers each week to the sick, elderly or bereaved members of the congregation following the evening service.
A Harvest Thanksgiving Service was held in Railway Street Presbyterian Church last Sunday morning. The church was tastefully decorated for the occasion by Elma Lindsay and a team of willing helpers. The minister, the Rev Brian Gibson, led the service and Janet Ferguson, Director of Music, led the praise with Bertha Cowan on piano and Ian Menown on keyboard accompanied by members of the praise band. Soloist Jordan Humphries sang, "I the Lord of sea and sky". During the children's spot, Matthew Menown, Sara Menown, Euan McAteer, Cameron McAteer, Anna Curragh and Sarah-Jane Jamieson sang, "Who put the colours in the rainbow". Sam McConaghy and Bryan Nelson read the Scripture lessons and Len and Jean Murray led the prayers of intercession.
In his address, Mr Gibson spoke of God's provision for and generosity to us emphasising that "nothing is ours – it is given to us by God". He pointed out our need to be a generous people in response to a generous God and our responsibility to share with people in countries where there is so much hunger and pain.
On Sunday evening the church choir presented a Harvest Festival of Music with guest musicians Alan McClure, violinist and Gareth Lewis, organ and piano.