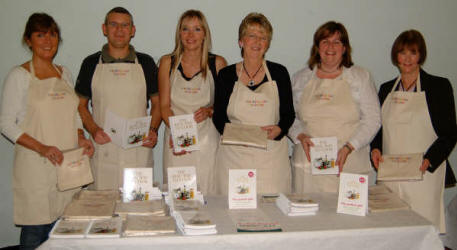 L to R: Denise Baird, Geoff Baird, Abigail Bittle, Carolyn Gowdy, Karen Elliott and Jean Murray at the launch of the new recipe book.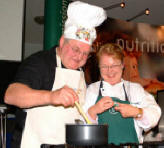 NEW recipe book entitled 'The Real Way to Cook' was launched at a cookery demonstration in Railway Street Presbyterian Church last Thursday night.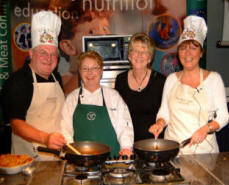 Compiled by Carolyn Gowdy, Jean Murray, Denise and Geoff Baird, Karen Elliott and Abigail Bittle, with formatting and cover design by Sheila Jamieson and Ruth Nelson, the book contains recipes contributed by members, families and friends of Railway Street Congregation.
The book will be available in various commercial outlets around the town or from the Church office at a cost of £6 per copy or £10 for two copies. All proceeds from its sale will be donated to the building fund for the refurbishment of Railway Street Presbyterian Church.
Carolyn Gowdy introduced the cookery demonstration 'Can you cook it?' which was organised by the fundraising team and presented by Bridghe Reilly (Livestock and Meat Commission Cookery Demonstrator) assisted by members of the congregation Billy Bittle and Denise Baird.
The tasty supper which followed allowed those present to sample some of the many recipes from the new book.
Ulster Star
01/12/2006