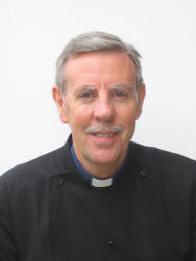 The Rev. Alan Millar, Rector of the grouped parish of Dromara and Garvaghy has been appointed Rector of St. Comgallís, Rathcoole and will preach his farewell sermon in Garvaghy Parish Church at 10.30am and in St Johnís Church, Dromara at 12.00 noon on Sunday 3rd September 2006.
Born in Belfast, Alan married his wife Iris in 1977 and in 1990 they emigrated to Canada where he ran a successful business for two years. Having felt a call to ministry Alan was accepted by Emmanuel College at Toronto University (1993-1997) graduating with a Masters of Divinity degree. During his time at university, Alan served the two pastoral charges of Ardtrea and Heritage United, Severn Bridge, Ontario as a Student Supply minister. Following his Ordination at the United Church of Canada in June 1997, he continued to serve as their pastor until he and Iris returned to Ireland in 1999. In the autumn of 1999 Alan attended the Church of Ireland Theological College in Dublin, spending two terms there. He then served his curacy at Drumglass Parish, consisting of St Anneís in Dungannon, and Moygashel, known now as St Elizabeth Church, until 2002. At a Service of Institution in St Johnís Church, Dromara on 4th September 2002, Mr Millar was instituted as Rector of the grouped Parish of Dromara and Garvaghy with pastoral oversight of St Johnís Church, Dromara and Garvaghy Parish Church, near Dromore.
Mr Millar, who has given four years of loyal and devoted service to the Parishes of Dromara and Garvaghy says, ďMy ministry at Dromara and Garvaghy has been very rewarding, and has been a wonderful experience. I have made many good friends in both parishes and it will be sad to leave them. It will also be sad to leave the many friends I have made in and around Dromara village, people of different denominations whom I have come into contact with and with whom I have enjoyed friendly conversation. I have also enjoyed good Christian fellowship with the Rev David Porter of 2nd Dromara Presbyterian Church. I can only thank God that I have been blessed with the experience of living and ministering in such a warm and friendly community as Dromara.Ē
Although his successor has not yet been named, Mr Millar wishes that he or she will settle in quickly and enjoy great happiness and success in this lovely rural area in which he had the privilege to serve for four happy years.