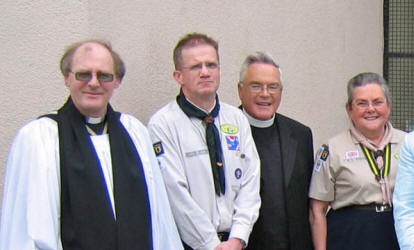 Lisburn and District Scouts Commissioners L to R: The Rev. George Irwin - District Chaplin, Noel Irwin - District Commissioner, the Rev. Jack Richardson - District President and Jessica Kidd - District Chairperson.
The 2006 Lisburn and District Scouts AGM will be held on Wednesday 23rd August at Lisburn Rugby Club at 7.30pm. Following the AGM, there will be a Bar-B-Que for all scouts and friends. Please bring your own meat to the BBQ - the rest will be supplied. If this proves to be a successful evening, it will hopefully become the norm for the future. Noel Irwin - District Commissioner requests that all Group Scout Leaders ensure that members of each Group/Section are made aware of this event as soon as possible. The AGM will be a uniform event, with the BBQ casual wear.
Noel Irwin continues, "The year 2006/2007 will be the most important in the long history of our movement with our Centenary celebrations in 2007 and whilst AGMs 'can be less than fun' it is important that we all make every scouting event held within the Lisburn District something to remember".