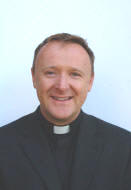 The Very Rev David Delargy, PP, formerly administrator of the Church of St. Mary, Star of the Sea, in the parish of Whitehouse, has been appointed Parish Priest of Hannaghstown Parish. Fr Delargy will replace Fr Dermot McCaughan who has been appointed Parish Priest of Lisburn in succession to Fr Hugh Kennedy. Fr Kennedy, who has been Parish Priest of Lisburn for just 12 months, has been appointed Administrator of St. Peter's Cathedral in Belfast's Albert Street.
The two churches in Fr Delargy's Hannaghstown Parish are St Joseph's, Hannaghstown and St. Peter's Church (The Rock) at Stoneyford. He will be assisted at St. Peter's - Stoneyford, by the Rt. Rev. Monsignor John Murphy, who following his retirement in July 2004, was appointed Priest in Residence in August 2004.
Originally from Ballymena, Fr Delargy was educated at St MacNissi's College, Garron Tower, near Carnlough. From 1981-1985 he attended Queen's University, Belfast, followed by four years at the Pontifical Gregorian University, Rome (1985-1989). He was Ordained in his home church of All Saints Church, Ballymena, in July 1989. After obtaining a PGCE at St Mary's Training College, Belfast (1989-1990), he spent seven years as a teacher at Our Lady and St Patrick's College, Knock, Belfast (1990-1997). From 1997-2002 he was Curate in the Parish of Glenavy and Killead, assisting Fr John O'Sullivan and the present Parish Priest, Fr Luke McWilliams. In 2002 he was appointed Administrator at the Church of St. Mary, Star of the Sea, in the parish of Whitehouse, Newtownabbey, where his duties also included Chaplain to the University of Ulster at Jordanstown and Chaplain to Whiteabbey Hospital.