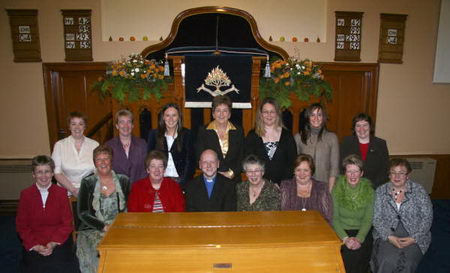 Cargycreevy Presbyterian Church choir pictured at the Harvest Thanksgiving Services on Sunday 28th October. L to R: (seated) Heather McConaghy, Patricia Patterson, Beth Bell (pianist), Rev Leslie Patterson, Vera Crawford (organist), Lillian Campbell, Margaret Todd and Mary Marks. (back row) Alison Magill, Christine Petticrew, Janet Wilson, Ella McLoughlin, Hazel Maitland, Elaine Crawford and Christine McConaghy.
The newly installed minister, the Rev Leslie Patterson, was the speaker at the Harvest Thanksgiving Services in Cargycreevy Presbyterian Church on Sunday 28th October. At the 12.30pm service Mr Patterson spoke on the 'Parable of the Sower' calling us all to spread the seeds of the gospel of Jesus Christ through our ordinary everyday lives wherever God would take us. At the evening service he spoke of how Jesus can meet us in the most unlikely of places doing the most ordinary of every day things. Mr Patterson went on to explain how the harvest on earth can begin with just one soul coming to Jesus and finding the water of life - just like the Samaritan woman discovered when she met Him at the well.
The church was tastefully decorated for the occasion by the ladies of the congregation. Vera Crawford presided at the organ, Beth Bell on piano and the instrumentalists were Trevor Wilson and Elaine Crawford. The choir sang the anthems, 'Consider the lilies', 'Surely our God' and 'You're the word of God the Father'. The Sunday School children sang 'Great is our God' and 'Growing, Growing, taller every day'.
A Harvest Evening on Monday 29th October with Graham Murphy on piano and Sheila Greer with the Downshire Ladies Choir concluded the weekend of Harvest Thanksgiving Services. The service was followed by supper in the church hall.

29/10/2007