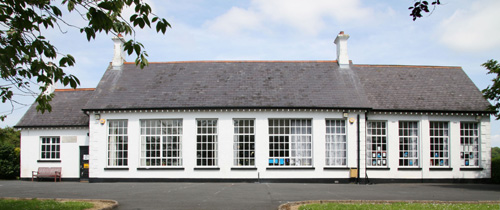 Charley Memorial Primary School

The Parish Church of St Patrick, Drumbeg, was packed to capacity for a Service of Thanksgiving on Sunday 13th May to mark the closure of Charley Memorial Primary School this summer. Using an acronym of the word W.E.L.C.O.M.E., Miss Gwen Forsythe (Principal) and the children of Charley Memorial gave their own special welcome to friends, former staff, governors, past pupils and members of the community (including some who had flown from as far away as Canada, England and Wales). Other special guests included Col Robin Charley who was accompanied by his wife Janet and their daughters Catherine Charley and Elizabeth Champion and grandchildren Rebecca and Dominic, Ms Irene Knox (Chief Executive of the SEELB), Jeffrey Donaldson (Lagan Valley MP), Councillor Trevor Lunn MLA (Mayor), Mrs Laureen Lunn (Mayoress) and Councillors Allen Ewart, Basil McCrea and Jonathan Craig were also in attendance.
Scripture readings were by Gemma Robinson (Principal Release Teacher), Jimmy Sloan (Former Principal), Irene Knox (Chief Executive of the SEELB), Hugh Crookshanks (Church Sexton), Gillian Alister (Classroom Assistant) and the Mayor.
A selection of verse from a Poetry Anthology by Helena Steiner Rice were read by Bertie Twaddell (Board of Governors representative for 35 years), Catherine Charley (great granddaughter of William Charley) Shirley MacWilliam (Chairperson of the PTA), Mrs Molly Nesbitt (Drumbeg Residents' Association), 83 year old Mrs Lily Skelton (nee Alexander) former pupil and Suzanne Brown (St Patrick's Choir). Other items included three poems by Colin Sloan (local poet) and thanksgiving prayers by Alex Connor.
Mrs Mabel Quinn on piano, Alan Lewis on keyboard and Matthew Nesbitt on guitar led the worship which was a resounding success and truly glorified God. The hymns included 'Come On and Celebrate', 'Lord for the years' and 'To God be the Glory'. Olivia Crooks (past pupil now studying law at Queen's University) sang the solo 'How Great Thou Art' which reduced many of the congregation to tears. Marilyn Campbell presented a recorder medley performed by 34 pupils, both past and present.
In his final thoughts, Drumbeg Rector, the Rev Raymond Devenney, described the service as 'a sad occasion' but added: 'In a way it is a celebration of over 100 years and more of a wonderful era of education in the Drumbeg area'. He also pronounced the benediction which was followed by a large group photograph and refreshments served at the school along with a celebratory cake.
The money received from the offering will be divided equally between the two charities supported by the school, Northern Ireland Cancer Fund for Children and Water Aid.
Wet weather didn't dampen the spirit of celebration, which although tinged with sadness, saw past pupils and teachers, as well as present pupils and parents pack the school to capacity last Friday night (15th June) for a most enjoyable BBQ. During the evening a presentation was made to Mrs Marilyn Campbell who is retiring after almost 17 years of dedicated service to the school. She received a gift of wooden patio furniture and a wooden garden seat and a large floral bouquet in recognition of her boundless energy and professionalism.
An emotional final assembly will be held in the school this afternoon (Friday 22nd June) at 1.00pm. All three events, (Service of Thanksgiving, BBQ and Final Assembly) will go down as important milestones in the history of the school, which will officially close at the end of August. Eighteen pupils commenced the school last September and the remaining seven pupils will leave at the end of June.
Brief history of Charley Memorial School

In a book published in 1996 entitled 'Recollections of the Parish of Drumbeg' writer Matthew Neill (now 89 years of age) records that the name Charley is almost synonymous with linen. From the earliest days of the linen industry, their factories and bleach greens were dotted along the Lagan and its tributaries: J & W Charley & Co. of Dunmurry, Seymour Hill, Mossvale and others. Indeed William Charley of Seymour Hill published a book 'On Flax' in 1862, which is still a classic. But it is as benefactors to Drumbeg Parish for over a century that Mr Neil recalls their philanthropy, which manifested itself in works of practical value that remain part of our heritage today. They were keenly interested in forwarding the cause of education and were motivated to provide a school where a good elementary education could be had by the children of the Parish.
Opened in1892, Charley Memorial School was endowed by sisters Mrs Anne Jane Stevenson and Miss Emily Charley, in memory of their brother and sister-in-law Mr & Mrs William Charley of Seymour Hill. It was known as Drumbeg National School until 1909.
The first Principal, Mr Robert Gurd (1892-1931), was followed in turn by: Mr L L Connor (1931-1948), Major Charles Robert Gray (1948-1964), Mr Thomas Magee McCutcheon (1965-1967), Mr James Wright Patton Scott (1968-1984) and Mr James Sloan (1984-2002). The present Principal, Miss Gwen Forsythe, was appointed in February 2002.
The inscription on the stone panel at Charley Memorial School reads:
CHARLEY MEMORIAL SCHOOL
ERECTED IN MEMORY OF
WILLIAM CHARLEY, D.L.
OF SEYMOUR HILL. BY HIS SISTERS
A. J. STEVENSON & EMILY CHARLEY
1892

Stone panel at Charley Memorial School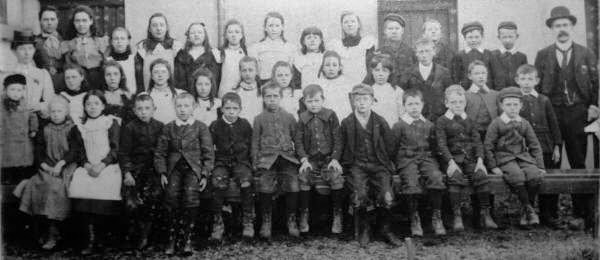 Year 1905 approx.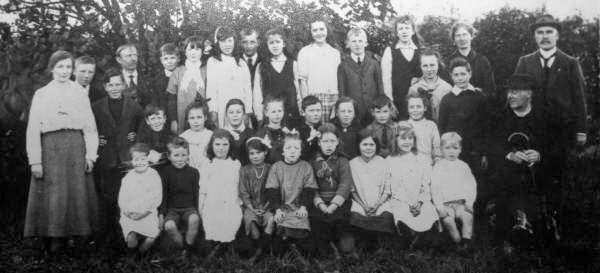 Year 1920 approx: L to R: (back row) Miss Kate Gilmore (Teacher), Alex Kerr, John Wilson, William Wylie, Eric Foster, Sarah Cochrane, Susan Dickinson, Hugh/Jim Ruddock, Georgina McConnell, Susan McClinton, Thomas Kerr, Lottie McConnell, Charlotte Sayers,
Anna Kyle (Teacher), Percy McClinton and Master B Curd. (middle row) Angus Wilson, Margaret Whiteside, Terry Cox, Norah Cox, William Ruddock, Mary Kerr, William Forbes and Clara Whiteside. (front row) Ena Whiteside, Eddie Sayers, Chrissie Forbes, May Whiteside, Agnes Cochrane, Rita Wilson, Eileen McClinton, Emma Dickinson and Charles Foster.

Year 1923 ? 1925: L to R: (back row) Master R Curd, William Drennan, William Livingstone, James Hamilton, William Turkington, Edward McMaster, William Henderson, Thomas Kerr, Robert Cowan, Angus Wilson and William Hamilton. (middle row) Esther Hunt, Daisy Crothers, Nell Dugan, Eileen McClinton, Molly Turkington, Jenny Allen, Mary Kerr, Florence Oliver, Marie Craig and Rita Wilson. (front row) John Hamilton, William J Adams, George Maxwell, Evelyn Dugan, Mantle Dugan, Louise Henderson, James Allen, Harriet Allen, John McClinton, Charles Foster, Whiteside and Sadie Cowan.

Year 1932

Year 1950 approx: L to R: (back row) Jackie Clarke, Margaret/Muriel McIlroy, Roy/Raymond Purvis, Gordon Coates/Gordon, Agnes Gill, Maureen/Maud Rolston, Cyril Henderson, Shirley Dugan, Betty Gibson and Jean Miller. (middle row): Billy Shanks, missing name, Hilary Bennett', Nice/Pauline Filers, Doreen Crowe, George Bratty, Marian McCully, S. David Waring and Kenneth Ferguson. (front row) Eric Miller, Ronnie Todd, Ernest Gill, Joan Gill, Maureen Punis, Isa Moore, missing name and Dorothy Alexander.



Year 1960 approx: L to R: (back row) 1. ? 2. ? 3. ? 4. ? Millar/Coates. 5. ? 6. ? 7. Rosemary Allen/Spindlow. 8. ? 9. ? l0. Elizabeth Drennan. Middle Row: 1. ? 2. Elma Adams. 3. Eleanor Abbott. 4. Barbara Coleman, 5. ?Henderson 6 Dorothy Alexander, 7 Roberta Gill. 8. ? 9. Margaret Drennan (Crowe) 10. ? 11. ? (Front Row): 1 Bertie Coleman. 2 Tommie Combs 3. Robert Hall. 4. Eric Millar

Year 1962 - 1963
| | | |
| --- | --- | --- |
| | | |
| Rev Raymond Devenney (Rector of Drumbeg Parish), Pauline McKee, Anne Pollock (supervisory assistants), Lilian McGlade (caretaker) and Joy Lewis (former secretary) and some of the parents and past pupils that attended the BBQ in Charley Memorial Primary School last Friday night. | At the BBQ in Charley Memorial Primary School last Friday night are L to R: Ann Robinson (former teacher), Yvonne Woods (Former teacher), June Latimer (lollipop lady) and Stuart Dickinson (former teacher). | At the BBQ in Charley Memorial Primary School last Friday night are L to R: (standing) Rev Raymond Devenney (Rector of Drumbeg Parish), Col Robin Charley, Janet Charley, Gwen Forsythe (Principal 2001-present), Jimmy Sloan (Principal 1984-2001). (under the sign) Past acting principals - Marilyn Campbell, Ann Robinson and James Kelly. |
| | | |
| Col Robin Charley points out the name of his grandfather, the late William Charley of Seymour Hill, in whose memory the Charley Memorial School was founded in 1892. Looking on are his wife Janet and Gwen Forsythe (Principal). The picture was taken at a BBQ in the school last Friday night. | Past pupils - twins Emma and Ami Thompson point themselves out in a 2004-2005 school photo to mum Sandra (left) and sister Alix (right). | L to R: Paul Graham, Tim Crooks, Linda Graham, Dick Lewis and Norman Wilson pictured in a haze of smoke as they cook the sausages and burgers at the BBQ in Charley Memorial Primary School last Friday night. |
| | | |
| Mrs Marilyn Campbell is pictured cutting a cake last Friday night marking her retirement after almost 17 years of dedicated service to Charley Memorial Primary School. L to R: Col Robin Charley, Sandra Thompson, Shirley MacWilliam, Anne Crooks, Gwen Forsythe (Principal), Lynda Graham and Mabel Quinn (all past and present members of the PTA). | Close up of the cake presented to Mrs Marilyn Campbell last Friday night marking her retirement after almost 17 years of dedicated service to Charley Memorial Primary School depicting that it is time for her to 'LOG OFF'. | |
ADDITIONAL INFORMATION - PRESS RELEASE
Education Minister, Maria Eagle, has announced that Charley Memorial Primary School, Drumbo Primary School, Hillhall Primary School and Lambeg Primary School will close at the end of August 2007.
The Minister highlighted that the decision was made in the best educational interests of the pupils and said: 'The decision to close a school is never an easy one and I carefully considered all arguments before reaching a decision. In every case, however, my top priority is the needs of the pupils involved.
'These four schools have served the East Lisburn community for many years and will leave a good legacy. I believe, however, that the long-term educational interests of the children concerned will be best served in a larger school, where they will be able to avail of increased educational opportunities. There are sufficient places at nearby primary schools that can provide the children with these opportunities.'
17/06/2007