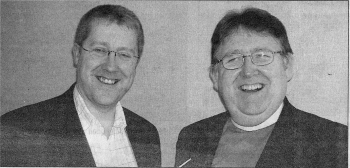 Jonathan Rea who conducts the New Irish Choir and Orchestra, with his lather Rev Harry Rea.
A 'CLASSIC praise concert' to raise funds for the Royal Victoria Hospital's Liver Support Group will take place in Lisburn Congregational Church later this month. The event on January 20 has been organised by local minister Rev Harry Rea. It will feature the new Irish Chamber Choir and Orchestra conducted by Rev. Rea's son Jonathan.
Just over four years ago, Rev Rea was given a successful liver transplant in King's College Hospital, London, after a long period of life-threatening illness.
The concert is one of a number of events he has organised to raise funds for the Support Group which is a registered charity funding hospital equipment and research into liver disease.
It also assists families who have to travel to England for vital transplant surgery which is not currently available in Northern Ireland.
As well as the Orchestra and Choir the concert will feature a number of local soloists and Scottish Soprano Sylvia Burnside. Artistic Director Jonathan Rea said: "The evening will provide something for everyone, with a great mix of Christian music sung by the choir, orchestra and soloists, along with plenty of opportunities for the audience to join in with the great classic hymns."
Mr. Rea explained the concert was 'something of a homecoming' for the New Irish. "Our founder 13 years ago was Lisburn-born composer, Keith Getty, who now lives in the USA," he went on.
"For me personally, it's a great pleasure to bring the group back to his home town, while at the same time being able to contribute to an event which will raise money for such a good cause.
"I know the RVH Liver Support Group was a great help to my father at the time of his transplant, and all of us in the group are delighted to be part of this exciting event." New Irish Arts is a Christian organisation which exists to present Christianity through the Arts.
The choir and orchestra have performed to sell-out audiences in the Waterfront Hall on many occasions, as well as producing local events in venues throughout Ireland. The group also perform regularly on BBC and RTE radio and TV.
The concert will take place at the Church on the Saintfield Road, at 7.45pm.
Tickets, which include light refreshments, are £10 and can be bought at the Faith Mission Bookshop, Lisburn or directly from Rev Rea, who can be contacted on 9266 5491 or 07854 499427.
It will also be possible to purchase tickets at the door although anyone wishing to attend is strongly advised to buy them in advance to avoid disappointment.
12/01/2007