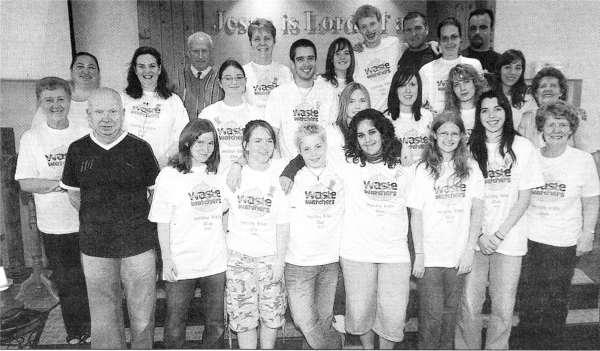 Volunteers and helpers at the Finaghy Baptist Church Bible Club. US3107-119A0
'WASTE Watchers' was the title of the Holiday Bible Club held at Finaghy Baptist Church this week.
Its theme focused on teaching children about how God can transform lives and about ways in which they can care for God's world and the environment.
The week included Bible stories, drama, singing, memory verses quizzes and crafts.
Joining the leaders were six young people from Spain and the Canary Islands who had travelled over to help out during the week, not only at the children's activities each afternoon, but also at the summer mission for young people each evening.
On Thursday evening there was a fancy dress competition - an event that is always eagerly awaited for and enjoyed by children and family alike.
This year the club celebrated its 29th anniversary and a special birthday cake was enjoyed by everyone at the supper afterwards.
03/08/2007