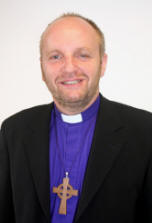 In his Easter Message, the Church of Ireland Bishop of Connor, the Rt Rev Alan Abernethy, says that Easter is about Christian hope, which will help us believe that God's love and mercy will conquer.

The Bishop said: 'It has been my experience in parish ministry that the Christmas celebrations in church attract many more people than the Easter celebrations. As I have reflected on this I think part of the reason is that Easter is a more difficult message. A tiny vulnerable child is something we all can relate to and a child is never a threat to us. Easter faces the ultimate destination that we find difficult to talk about. Death is the subject of Easter as we cannot celebrate the joy of Easter Day without facing the emptiness and pain of Good Friday. Death remains the one certain fact in the lives of each one of us'.

Bishop Abernethy went on: 'Our celebration this Easter does not mean that we will not be suffering sorrow and sadness next week. However the great note of Easter is hope, this is Christian hope that helps us believe that ultimately God's mercy and love will conquer. Christ has shared our human experience, he suffered, was crucified, died and was buried. The resurrection helps us believe we worship a God who will have the last word and he has given us hope by raising Jesus from the dead. That is something to celebrate - a hope that is ours even in our human struggle'.
19/03/2008