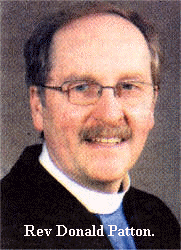 THE former Minister of First Dromore Presbyterian and Lowe Memorial, Rev Dr Donald Patton, has been elected as the next Moderator of the Presbyterian Church in Ireland.
Currently minister of Old Church Randalstown, Dr Patton was nominated by 11 out of the 21 Presbyteries from throughout Ireland who voted for a new Moderator to take up office on June 3 in succession to Dr John Finlay. Commenting on his election Dr Patton said:
"I am very honoured by the way so many in the Presbyterian Church have asked me to fulfil the role of Moderator. While I am awed by the responsibility I look forward to the challenges ahead."
He describes himself as "a warm evangelical teacher and pastor intent on reaching out with the Gospel to the wider community on issues that are relevant to them." Born in Warrenpoint on May 30, 1950, Mr Patton spent his early years in Londonderry before his father's work took the family to Portadown.
A member of Armagh Road Presbyterian Church he attended Portadown College and later graduated from Queen's University Belfast with a BSSc in 1971 and BD in 1974. In 1993 he was awarded a PhD, also from Queen's.
After ordination as assistant in Trinity Bangor in 1975 he became minister of First Dromore in 1977 and after six years was called to Greystone Road, Antrim. In 1988 he became minister of Lowe Memorial Presbyterian Church in Finaghy before moving to OC Randalstown in 2002.
Dr Patton is a keen historian and was convenor of the Presbyterian Historical Society from 1990 until 1996. He has written a short history of First Dromore Presbyterian Church and edited a numbers of other books on church history.
He is married to Florence and has two sons and two daughters.
08/02/2008