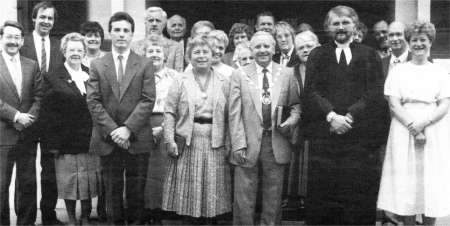 Members of the Leaders' Board of Seymour Hill Methodist Church with former Mayor of Lisburn William McAllister, Mayoress Eleanor McAllister and Rev lack Moore, Minister of Seymour Hill church 1983-1989.
SEYMOUR Hill Methodist Church will celebrate its 50th anniversary this Sunday (November 2), when former ministers will once again preach at the church.
Seymour Hill Methodist was officially opened in November 1958 and the first minister of the church was Rev RH Gallagher. In the early years, Rev Gallagher received assistance from
Rev Richard Ludlow. Seymour Hill was part of the Lisburn Circuit until 1966 when it became part of the Finaghy Circuit. Rev JB Turner succeeded Rev Gallagher as minister in 1961 and was in turn succeeded by Rev JW Good in 1966.
A new extension to the premises was officially opened in 1970 and a year later Rev JT MacCormack was appointed minister and remained in Seymour Hill until 1977 when he was succeeded by Rev SF Clements. Rev JRJ Moore was appointed minister in 1983, followed by Rev Dr JB Glenny in 1989, Rev MH Kilpatrick in 1994, Rev GL Spence in 1997 and Rev WJ Lavery in 2001. Rev Lavery retired from the active ministry in June 2008, and Seymour Hill is now under the supervision of the Circuit Superintendent Rev WA Davison, who is being assisted by Rev RW Wallace who has been appointed as Pastoral Assistant Minister at Seymour Hill.
Over the past 50 years the church has endeavoured to cater for both the spiritual and social needs of its members. The current organisations and meetings include the Midweek Fellowship, Prayer and Bible Study meeting, Church Choir, Sunday School, Junior Bible Class, Boys' Brigade, Girls' Brigade, Mother and Toddler Group, MWI and Men's Fellowship. Other organisations/groups no longer function but played a part in the history of the church.
During this Anniversary year the church has arranged for some of their past ministers to come back to Seymour Hill and preach at special services throughout the year.
They welcomed back Rev Sam Clements (1983-1989) to speak at the Gift Day service in April 2008. The speakers at the Harvest Thanksgiving services on Sunday October 12 will be former ministers Rev Dr Lee Glenny (1989-1994) and Rev Mervyn Kilpatrick (1994-1997).
The main 50th Anniversary services have been arranged for Sunday November 2 and once again former ministers will be joining the congregation as guest preachers - Rev Winston Good (1966-1971) at 11.30am and Rev Jack Moore (19831989) at 7pm, when Seymour Hill Methodist will also be joined by friends from Finaghy. It is also hoped that the church's last two ministers, Rev Leslie Spence (1997-2001) and Rev Bill Lavery (2001-2008) will be able to attend the evening service as guests.
| | |
| --- | --- |
| | |
| Past Ministers of Seymour Hill Methodist at the 40th Anniversary celebrations in 1998. Back Row: Rev Sam Clements (1977-1983), Rev Winston Good (1966-1971). Front Row: Rev Leslie Spence (1997-2001), Rev Dr Lee Glenny (1989-1994), Rev Tom Magowan Minister, Finaghy Methodist Church | Members of Seymour Hill Methodist Church Youth Fellowship in 1970 with leader Mr Wilson Doran and Minister Rev Winston Good. |
To see more old photos from Seymour Hill Methodist Church log onto www.lisburntoday.co.uk
Ulster Star
31/10/2008