At Lisburn's Polish Mission Church's, second birthday party in the Kingdom Life City Church recently are L to R. (seated) Monika and Przemyslaw Feliga, Szczepan and Kamila Cackowscy and Lukasz and Kamila Nowicki. (back row) Brian and Mary Agnew (Kingdom Life), Slawomir and Katarzyna Cichy and Elizabeth and Mervyn Gilpin (Founder members).
THE Leader of Lisburn's Polish Mission Church has been appointed full time Evangelist to Ireland's Polish Community.
Szczepan Cackowski certainly has a mammoth task on his hands with around 30,000 Polish people living in Northern Ireland and 150,000 in the Republic.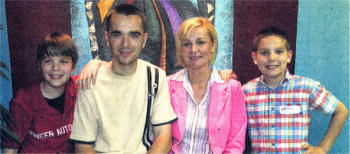 As well as evangelism his post will include providing practical help with matters such as form filling and job applications.
He said he was looking forward to the bridge building opportunities his new position offered. News of Szczepan's appointment came as Lisburn's Polish Mission Church celebrated its second anniversary with a special service in the Kingdom Life City Church on Sunday September 21.
The worship was led by Szczepan assisted by translator Kamila Nowicka with music by Lukasz Nowicki and members of the talented church band.
Kingdom Life Pastor Brian Agnew explained how the church was set up with the help of Hillsborough couple Mervyn and Elizabeth Gilpin.
He recalled preparing for its first service on September 3 2006 while other people described how they felt the church had changed their lives.
Those present at the service enjoyed a video containing film of all the trips and events which provided fun and fellowship during the church' s second year.
The fun continued after the service when a quiz allowed Polish members to pit their wits against other sections of the congregation.
The Polish Mission Church is ecumenical and was created and developed by members of many of Poland's denominations including: Baptist Church, Catholic Church, Church of Evangelical Christians, Church of Free Christians, God's Church in Christ and the Pentecostal Church.
03/10/2008