Cathedral scouts win NI kayaking trophy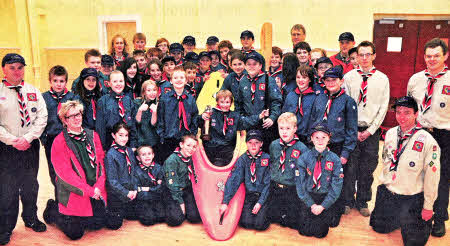 Lisburn Cathedral Scout Group with the Kennedy Dolphin Trophy won at the Northern Ireland Scouting Competition US4809-421PM Pic by Paul Murphy
A TEAM from Lisburn Cathedral Scouts and Explorers has beaten scout troops from all over the province to clinch the NI kayaking trophy.
33 members recently competed in Northern Ireland's biggest canoeing, kayaking and sailing competition - the Kennedy Dolphin Trophy. The local group have competed in this event for many years coming second on several occasions.
It was an achievement to finally beat the sea scouts who have dominated this event" said Colin Bell, scout leader.
"It is great for the scouts to see how their training sessions on the River Lagan and at Craigavon Lakes finally paid off and hopefully we will keep the trophy in Lisburn next year as we are heading over to the National Watersports Centre in Nottingham next summer to develop our sailing skills further."
Individual success came to Stefan Maguire, Paul Stacey, Luke Ballard and Adam Black who won lots of points for the team.
Lisburn Cathedral Scout Group is going from strength to strength with 200+ members enjoying an active programme with lots of activities at home and abroad.
Members of the Cathedral Scout Sports Club are currently training for forthcoming Northern Ireland archery and fencing competitions to be held over the Christmas period.
The scout group still has still a few places available in each section for both boys and girls aged 4 upwards. Adults are also welcome to join the sports club.
Free information booklets can be obtained through website enquiries a t
www.cathedralscouts.com or by phoning 0845 20 SCOUT.
27/11/2009