Celebrating BB 100 Years at Railway Street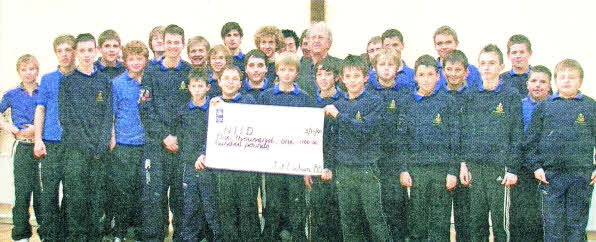 First Lisburn BB present £1,100 to NI Institute for the Disabled
TO CELEBRATE 100 years of the Boys Brigade, members of the First Lisburn Company at Railway Street Presbyterian Church, raised £1,100 for the Northern Ireland Institute for the Disabled and recently presented a cheque to John Miskimmon. George Toombs, Company President also released 100 Balloons to mark the Centenary. The Company also represented the BB at the British Legion Festival of Remembrance at the Waterfront Hall in October. The Lisburn and District Group laid a BB wreath at the Cenotaph on Sunday, November 8 and First Lisburn BB Standard was part of the Colour Party.

A weekend of celebrations has been arranged for December 12 and 13 and Captain Geoff Baird is keen for any Old Boys to make contact through Railway Street Church.
On Saturday December 12, a four-course Carvery Dinner will be held in Railway Street Church Hall. Tickets are £15. Contact any officer for further details.
Then on Sunday, December 13 there will be two Celebration Church Services along with a Celebration Party, after the Morning Service.
20/11/2009