Creation Weekend at Hillsborough & Lisburn
Free Presbyterian Churches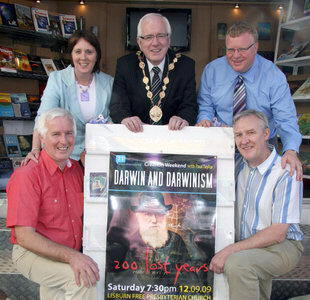 Lisburn Mayor Councillor Allan Ewart pictured promoting the 'Creation weekend' last Saturday afternoon (12th September) with Councillor Jenny Palmer and Lisburn Free Presbyterian Church's Alan Givan (left) and speaker Paul Taylor and Hillsborough Free Presbyterian Church's Roy Elliott (right).
A 'Creation Weekend' with Paul Taylor (Answers in Genesis UK) was held in Hillsborough and Lisburn Free Presbyterian Churches. Hillsborough Presbyterian Church hosted a Youth Rally on Friday evening entitled, 'Adam, apes and attitude – the non evolution of human beings' and on Sunday the topic for the evening service was 'The universe - God or big bang'. Topics at Lisburn Free Presbyterian Church on Saturday morning and afternoon were 'Why creation matters to an understanding of the Bible' and 'Operation space - a look at our solar system'. On Sunday the topics were, 'Darwin and Darwinism - 200 lost years' and 'The language of evolution compared with the language of the Bible'.
14/09/2009