Food hygiene in church doesn't have to be on a wing and a prayer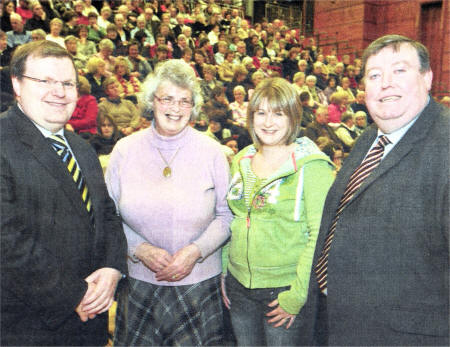 Present at the largest food hygiene training event for Volunteers in Places of Worship, which was provided by Lisburn City Council's Environmental Health Food Control Section were (1-r) Councillor Jonathan Craig, Lisburn City Council, Mrs June Ewing, Wallace Avenue Gospel Hall, Mrs Alison Hewitt, Legacurry Presbyterian Church and Alderman Paul Porter, Chairman of Environmental Services Committee, Lisburn City Council.
LISBURN City Council has become the first local authority in Northern Ireland to hold a Food Hygiene Awareness training course specifically for volunteers involved in catering at places of public worship.
The training programme, which is provided free of charge by the Council's Environmental Health Food Control Section, will see 440 volunteers complete the awareness training.
Alderman Paul Porter, Chairman of the Environmental Services Committee, said the initiative had attracted a large number of volunteers.
"I would encourage all church organisations throughout the City to avail of the training that is being offered" he said. "Due to continuing high demand we intend to host another event or events as soon as we possibly can, if you are interested please contact the Food Control Section in the Council."
The aim of the training is to assist volunteers involved in food handling or preparation at Places of Public Worship to ensure they comply with the current Food Safety Legislation.
Michael Jackson, Head of Food Safety and Enforcement at the Food Standards Agency Northern Ireland said: "This is a great initiative by Lisburn City Council and we fully support their proactive work towards providing hygiene training for people catering in local community facilities."
Training can be provided in the evenings at suitable locations, such as centres or halls to make it accessible for all volunteers to attend.
Any church organisation interested in hosting a training event or requiring further information, should contact Robert Lamont, Environmental Health Manager, Food Control Unit, Lisburn City Council on 9250 9394 or email ehealth@lisburn.gov.uk.
Ulster Star
30/01/2009