GEORGE HAMILTON IV TO SING AT LISBURN CATHEDRAL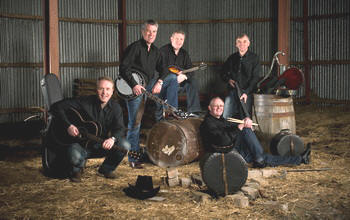 On Tuesday 10th February there will be a special treat for all country gospel music fans at Lisburn Cathedral in the centre of Lisburn when the legendary George Hamilton IV from Nashville Tennessee teams up with top Northern Ireland country gospel band Live Issue. This visit to Lisburn will be part of a short tour of Northern Ireland and George is delighted to now have the opportunity to perform in the Cathedral which is at the heart of Lisburn's historic quarter and beside the recently restored Castle Gardens.
Live Issue will open the concert and then accompany George as he sings many of his hits, along with a rendition of well known gospel songs. Live Issue and George Hamilton IV have worked together on many occasions on both sides of the Atlantic. Live Issue was one of Northern Ireland's best known and loved Gospel bands during the 1980's and early 90's. Since they reformed back in 2006, their music and ministry has reached a whole new generation, as well as those who enjoyed the band all those years ago.
Live Issue comprises of Colin Elliott, Roy Dreaning, Sam Armstrong, Samuel Purdy and Carl Sands. The past few years has seen the group move from singing at local bookings in Northern Ireland to playing at concerts and conventions throughout England and Scotland. In August 2007 the band travelled across the Atlantic to America, where they were special guests on the "Midnight Jamboree" at the Grand Ole Opry in Nashville. During that visit Live Issue shared the stage with Country legends such as David Frizzell, Joanne Cash and Jimmy Fortune, from the Statler Brothers, and their live performances in Nashville were broadcast across the world on WSM Radio and Music City Television.
In March 2007 Live Issue released a live album with George Hamilton IV which went to number 1 in the New Christian Music European Charts. Their own album "We Will Meet Again" was one of the best selling local albums that year and in 2008 the group released another joint CD entitled "Easter in the Country Live" again with George Hamilton IV.
In December 2008 New Christian Music named Live Issue as "Artists of the Year" for the second consecutive year in the Country Gospel category. Their award will be presented to the band in March of this year. Two members of Live Issue, Colin Elliott and Samuel Purdy are currently producing a 'duets' album with George Hamilton IV featuring many of the stars from the Grand Ole Opry such as Slim Whitman, Ricky Skaggs, Marty Stuart and Connie Smyth . Production on this album is well underway and is being recorded both locally at Hillcrest Recording Studios and at Lamon Recordings in Nashville.
As well as singing throughout Northern Ireland this year, Live Issue are also currently working on a new CD and are planning to head out to the United States again for another tour in July.
It is clear when you both watch and listen to Live Issue just how much the members of the group love their music, yet more importantly the band believes that the message behind the songs is the most important aspect of their concerts.
George's two recent gospel albums "Easter in the Country Live" and "What A Friend We Have in Jesus." have been produced by two Live Issue members, Colin Elliott and Samuel Purdy. Samuel Purdy has lived in the Lisburn area all his life and although Colin Elliott is from Portadown, he is also the Principal of Brownlee Primary School in Wallace Avenue. The album "What A Friend We Have in Jesus" chronicled the life of Banbridge man, Joseph Scriven, who wrote the famous hymn. The album was given a 5 star rating in the country music press and was heralded as one of George's best albums. The CD is now about to be released worldwide through the 'Lamon' record label based in Nashville.
George Hamilton IV first came to prominence in 1956 with a million selling record entitled "A Rose and a Baby Ruth." (A"Baby Ruth"being the name of a chocolate bar popular in America at the time.) During the next four years George IV toured extensively with artists such as Buddy Holly, Gene Vincent, Patsy Cline, Eddie Cochran and he even appeared on Broadway with Louis Armstrong.
In 1961 George IV crossed over to Country music and became a regular at the Grand Ole Opry, working with established artists like Johnny Cash and Chet Atkins. During the 60's the hits kept coming with songs such as "Abilene", "Break My Mind", "Early Morning Rain" and Joni Mitchell's "Urge For Going."
In 1970 George Hamilton IV had one of his biggest selling records entitled, "Canadian Pacific" and this opened a whole new fan base in Canada and the UK. In the 1970's George IV had his own TV shows on both the BBC and ITV and even played a full season at the Winter Gardens in Blackpool. George was also a regular headliner at the Country Music Festivals at Wembley during the 70's and 80's.
In 1974 George Hamilton IV was the first Country artist to tour behind the 'Iron Curtain' and in the USSR. In the 1990's he played himself in the long running musical "Patsy Cline", which was based on the life story of the famous singer who George knew well. This show was critically acclaimed and ran for over 3 years in London's West End. Country Music Magazine has named George Hamilton IV the "International Ambassador of Country Music" and he is still touring as much today as he did back in the 1960's and 70's.
George IV became a Christian at an early age and always based his life on the Biblical values he had been taught as a child. In 1974 George rededicated his life to the Lord and over the past decade has toured the British Isles and America with his Gospel presentations.
The concert in Lisburn Cathedral will begin at 8pm and doors will open at 7:30pm.
Entrance to the concert is free however there is a suggested donation of £8 - £10 per person to cover expenses. Both George Hamilton IV and Live Issue will have some of their CDs for sale on the evening of the concert. George will also be keen to 'meet and greet' after the concert, so feel free to bring your camera along.
Additional free car-parking will be available at Brownlee Primary School in Wallace Avenue on the evening of the event.
For further information contact the Lisburn Cathedral Office at 24 Castle Street Lisburn or alternatively visit www.liveissue.ik.com
31/01/2009